---
Meet SPA LUX Massage Therapist Bryan Hodson
---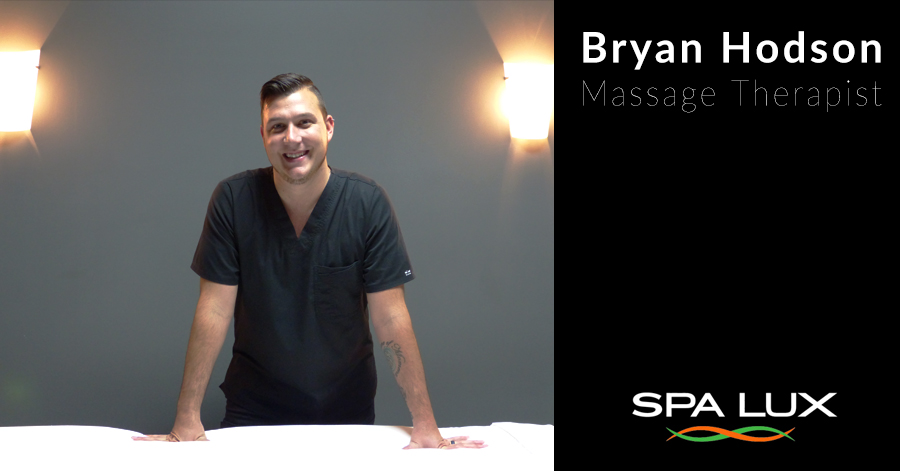 Bryan Hodson is a native of Tulsa, Oklahoma. He attended the Oklahoma Health Academy where he studied massage therapy, learning both the therapeutic techniques required for the discipline and partaking in hands-on training so he could understand how those techniques apply to real life situations.
That combined approach to his massage education has made Bryan a valuable asset to SPA LUX and our clients. Bryan specializes in deep tissue massage, as well as techniques designed to alleviate migraines, back problems, and neck issues. During his deep tissue sessions, Bryan uses medium-to-heavy pressure and slow, focused strokes to release body tension and target the client's connective tissues. The result is a progressive relaxation and minimization of pain that can help everyone from chronic pain suffers to athletes recover more quickly and live more fulfilling lives.
Bryan's favorite part about working at SPA LUX is the incredible staff he gets to be a part of. It truly does feel like a family, and that warm atmosphere combined with the freedom to work a flexible schedule is invaluable. SPA LUX's therapists are also encouraged to continue their professional growth, and Bryan works hard to stay current on new developments and consistently improve his skill set.
In his spare time, Bryan loves spending time with his wonderful nieces and exploring the city with his lovely wife. They love to attend Tulsa Ballet and the Tulsa Opera, often following a home-cooked meal featuring one of Bryan's unique culinary discoveries.