---
Keep Calm and Think Prom at SPA LUX
---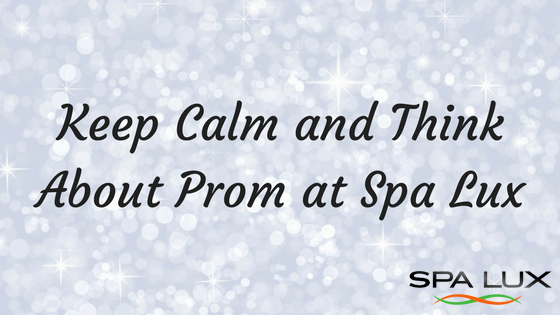 Prom season is here in Tulsa. Before you go and have the time of your life, come and treat yourself to one (or more) of our many spa services. In fact, don't make prom just one part of the evening… make it a whole daylong experience!
Here are a couple of our recommended services to consider.
SPA LUX Signature Facial with Add-On Wax
Put your best face forward and get your skin prepped, ready, and relaxed ahead of your big night. Before you get your makeup done, create a clean canvas for your flawless makeup and enjoy a relaxing facial to get rid of any dirt, oils, and impurities.
Facials are one of the most requested services at SPA LUX. The process includes thorough cleaning and toning of facial skin, followed by steam and exfoliation. Then a serum and treatment mask are applied to balance and soothe, and we finish things up with a moisturizer that leaves your skin glowing. To complete your look for the night, consider adding on a brow or lip wax for only $15.
More Information: http://www.spalux.org/services/facials/signaturefacial and http://www.spalux.org/services/facials/complement-facial-treatments
SPA LUX Swedish Massage
Come and relax your body and feet before you dance the night away! Continue pampering yourself with a relaxing Swedish Massage from one of Tulsa's best massage therapists. Varying timeframes are available to suit your schedule the day of prom, but we also recommend stopping by a day or two before if you aren't already accustomed to having a massage done.
More Information: http://www.spalux.org/services/massage/swedishmassage
Important Prom Dates to Remember
Tulsa Public Schools / April 15th
Memorial High School / April 15th
Glenpool High School / April 15th
Sapulpa High School / April 15th
Union High School / April 22nd
Jenks High School / April 22nd
Bixby High School / April 22nd
Broken Arrow Schools / April 29th
As you're scheduling your prom day experience—whether you're planning it as a solo trip or an experience for you and your friends to do together—come and visit the Tulsa day spa that is one of the top 25 American Hot Spots, according to Travel Leisure Magazine!