---
Mother's Day Spa Packages
---
It doesn't matter whether she wants to enjoy the entire day or just an hour, we have packages to suit her needs. A few of our most popular options include: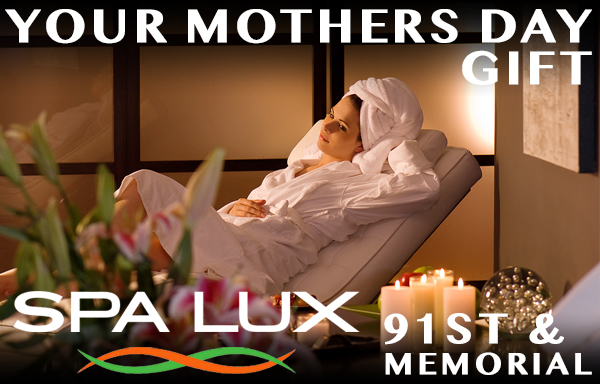 The Mother-Daughter Lux Package: Mom knows any day is good if it includes bonding time with her daughter. This package is designed for our guests who want to experience the spa together. For only $370 both of you will receive an 85-minute relaxing Swedish massage and our 55-minute Signature facial side-by-side. Buy Now.
The SPA LUX Signature Package: One of our most popular packages includes a Lavender-Citrus Sugar Body Polish; 60 minute Swedish Massage and a 60-minute Signature Customized Facial - a perfect combination of services for $205. Buy Now.
The New Mother Package: After delivery, as new mothers adjust to the new schedule (and baby too!), they usually don't have time to relax. However, relaxation is exactly what is needed. Pregnancy and delivery can be a stressful time both physically and emotionally. New mother's body and mind need to recuperate and wind down. A happy and healthy Mom makes a happy and healthy baby! The New Mother package consists of 60 minute Muscle Meltdown Massage; 30-minute Reflexology Massage; 30-minute Full Body Scrub; 30 minute Facial - All for $220 Buy Now.
The Expecting Mothers Package: Moms-to-be deserve to be pampered too! Choice of 90-minute Pregnancy Massage OR 60-minute Pregnancy Massage with 30-minute Scalp Treatment, plus a 60-minute "Pregnancy" Facial make it a perfect package for someone who is expecting. This package costs $200. Buy Now.
Of course, if you really want to show your love, we do offer a special Total Body Deluxe Package. Designed for the woman who wants to spend the entire day it total relaxation, this package includes a 55-Minute Body Mask with Body Polish, 85-Minute Swedish Massage, 30-Minute Revitalizing Scalp Treatment, an 85-Minute Customized Facial, and a Spa Lunch! Buy Now.
Best of all, each of these packages can be purchased online in the form of a gift card! Click here for more package options.
Transportation Services: 
For clients who might be missing out on Spa Lux's luxurious pampering due to a disability or inability to drive, Spa Lux has partnered with BiosCare to provide concierge services.
BiosCare concierges are pleased to accompany clients to Spa Lux, ensuring that they get to their appointments safely and on time.  BiosCare provides door-through-door services, meaning that unlike a transportation service, these concierges are companions; they are there every step of the way.  They assist clients in and out of the building and help with any necessary paperwork during check-in and check-out.  If appropriate, they remain present as needed during the consultation and preparation for your Spa Lux service, they act as an extra set of eyes and ears, helping to ensure instructions are clearly understood.  Following the appointment, they can assist with dressing, gathering belongings and preparing for travel home.  
BiosCare concierges provide transportation in their vehicle or yours.  They are licensed, bonded and insured and are fully background checked for your protection.  BiosCare provides a full array of additional care services to meet all levels of need.
Transportation must be booked 48-hours before appointments. BiosCare service can be added at the rate of $25 per hour, which will include the time of door-to-door transportation, check-in and treatment at Spa Lux and transportation back. We estimate that for a 55-minute spa appointment a client must reserve 3 hours of BiosCare concierge service.
Transportation must be booked and paid for 48-hours before appointments.