---
MEET SPA LUX MASSAGE THERAPIST TAMRA LEWIS
---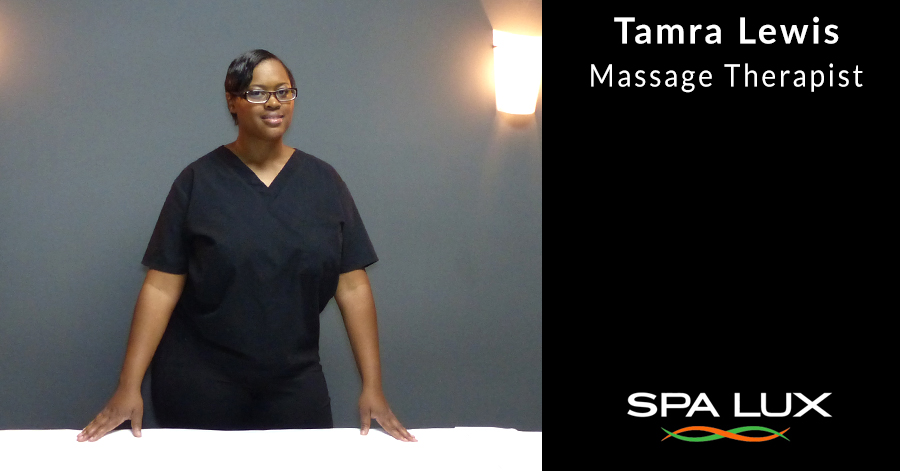 Tamra Lewis was born and raised in Tulsa, Oklahoma. She attended the local Clary Sage College where she studied a broad range of integrated massage therapies, including sports massage, pregnancy massage, hydrotherapy, reflexology, aromatherapy, East Asian spa treatments, and deep tissue massage in Tulsa.
The hands-on training and anatomy and physiology lessons Tamra received at Clary Sage are put to good use here at SPA LUX. Tamra specializes in Swedish Massage, a relaxing therapy that uses light pressure and long, soothing strokes to stimulate body flow and rebalance the client's system. Swedish Massage is great for relaxation and stress relief but it can also help eliminate toxins, mitigate pain, and make joints more flexible. Swedish Massage is also a great entry point for clients who are new to massage or who want a relaxing session rather than a massage focused on problem areas or medical concerns.
Tamra loves working with the welcoming, dedicated, and engaged staff at SPA LUX. Everyone is eager to learn and deliver the best massage in Tulsa customer service possible, two things Tamra herself is passionate about.
When she's not at SPA LUX, Tamra enjoys reading, hanging out with family and friends, and shopping.